Online GMAT Prep — Verbal Course (Only $129)
Did you have trouble comprehending War and Peace? Are you just as likely to misplace your modifiers as you are to misplace your car keys? Does the idea of dissecting a logical argument make you break out in a cold sweat? Fear not! This verbal-only course teaches all of the most relevant content and test-taking strategies for the three types of GMAT Verbal questions: Sentence Corrections; Reading Comprehension; and Critical Reasoning.
"After taking Brett's course, my GMAT score rose nearly 100 points and I was accepted into both graduate programs that I applied to. I highly recommend this course to anyone looking to increase their score!" — Nick Rodriguez, Denver, CO
Here's what is included with your GMAT online verbal course:
Over 5 hours of cutting-edge instructional videos, accessible on demand, that cover every major content area and question type tested on the verbal section of the GMAT;
A textbook (Game Plan for GMAT Verbal) and content-specific worksheets with hundreds of real former GMAT verbal practice problems and answer explanations;
Access to seven (7) full-length GMAT practice tests (3 included);
A weekly half-hour online whiteboard tutorial with a live instructor where you can receive additional instruction, get answers to your homework questions, and network with other GMAT students;
Detailed blog posts with miscellaneous test-taking tips and practice problems;
Unlimited access to your instructor for additional coaching and support.
Backed by our industry-leading score improvement guarantee.
BONUS VIDEOS #1: Instruction on the new GMAT Integrated Reasoning section
BONUS VIDEOS #2: Instruction on the GMAT Essay (Analytical Writing Assessment)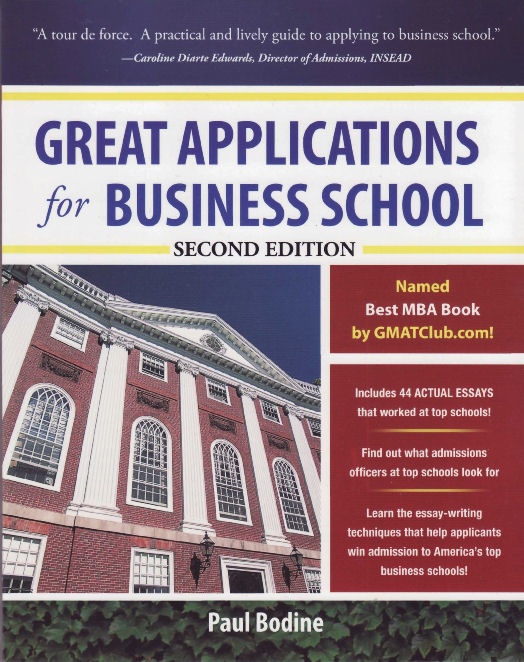 Limited time BONUS: When you register for our comprehensive GMAT Verbal Course, you will receive a FREE copy of Paul Bodine's essential MBA admissions book, Great Applications for Business School, 2nd Ed.!
Cost and Details:
Cost: $129 — A verbal-only GMAT prep course is unique in the industry! Note: If you'd like to learn how to get a discount, check out our referral program.
Immediate access to all video and online content upon receipt of payment; after payment has been verified, an e-mail will be sent to you with login information for your personal membership account
Video lessons are streaming and accessible anywhere you have Internet access — view them on your Mac, PC, iPhone, iPad, and other tablets and smartphones
Textbook is shipped immediately and arrives in 2-3 business days (6-10 if outside the U.S.)
CLICK HERE TO PURCHASE. For more information or with questions, please contact us.
Cost: Only $129